<![if !vml]>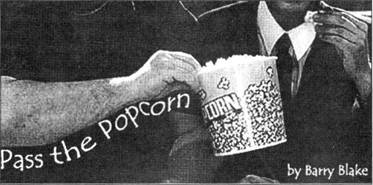 <![endif]> 
Column
8
Times-Standard • Northern Lights
Thursday, Nov. 18, 2004
The joys of a bona fide neighborhood restaurant
Barry Blake
N0R'1'11IL TlMl.ti-Sl'ANDARD
Searching for solace after anoth­er election debacle ... (Forewarn­ing: This piece is not an explana­tion of the ridiculous, nor a vent­ing aimed at stupidity, not even a revelation about rigged voting machines, all of which it could be) I slipped into one of my favorite little restaurants. Yes, you've got it! It's called eating, the coping mech­anism of the savaged. Granted, eating may not be the best panacea. But until a better one comes along, eating the right food in the right place works wonders.
One good remedy for blighted hope, disappointment, after clap, and other shades of blue is the neighborhood restaurant, a cultur­al phenomena found more com­monly in historical environs where, at some point in history, zoning laws suffered a short-term coma. Little family-owned and run restaurants in the densely populated boroughs of New York, ethnic neighborhoods of Chicago, and back streets of Boston have nurtured and nourished many a soul.
Size may qualify some restau­rants in our little rural locale. But just because a restaurant is small or easily accessible by car does not mean it's a bona fide neigh­borhood restaurant. Nor does a franchise poser like Applebee's, no matter how hard it works at its image, qualify. Genuine neighbor­hood restaurants are not national­ly advertised - they are hardly advertised at all. In fact, you might not know they were there unless you were in the neighbor­hood.
  Now we are getting somewhere. Besides belonging to a neighbor­hood, the real thing never has a drive-thru. Inconceivable. Oh, you may be able to call in for some take-out, but you are going to have to stand there savoring the lilting aromas from the kitchen while you wait for your order to get done.
This species of restaurant does have fewer tables (say, 10 to 13), does not serve exotic, pretentious, faddish food, but does serve fairly priced food lovingly prepared, welcomes children, has the same chef every night, and allows that being able to carry on a quiet con­versation has value. The house wine is better than good.
Service is quiet, efficient, not rushed. It is conducted by grown­ups who know the food, what's in it and how it is prepared. The check is not presented until you have finished. In the kind of place we are discussing you will not have to tolerate the waitperson who, after you have made your selection, acts as if you just won the lottery: "Ohhhhh, great choice! That's the best! Dude, you are just gonna love the marinara in that!" Nor will you ever hear the waitperson crank out these joyless words: "Are you still work­ing on that?"
You'll never hear those words at La Trattoria, a bona fide, neigh­borhood restaurant in Arcata on Bayside and Buttermilk Lane just as you come out of the round­about.
La Trattoria is a simply appoint­ed little room that serves ample, but not excessive, portions of excellent Italian food. Although the menu is more extensive than it once was, it remains small. Flavors are well-defined, yet deli­cate, and well combined. There are fine choices for vegetarians or those who prefer meat. Real Italian music - the kind with accordions - is just audible.
James helps with the prep cook­ing and runs the business end. His wife Patricia is the chef, responsi­ble for baking the bread, making some of the pasta and creating the very flavorful fare. Sausages are handmade by James and the veg­etables are locally grown and freshly prepared. Desserts are unusual and wonderful. Of course the coffee is real, and they main­tain the quaint custom of sugar cubes, which counts for some­thing in this day and age. Dominated by unpronounceable
Italian varieties, the wine list is excellent.
La Trattoria is an entirely terrif­ic place to dine, chat or reflect at your own pace.
So let's hear it for bona fide neighborhood restaurants: Friend­ly, comfy and cozy, great food, stress-free zones in stressful times.