<![if !vml]>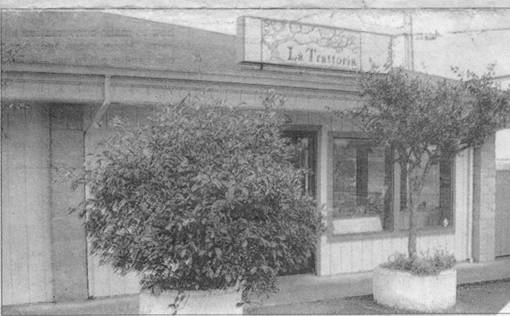 <![endif]>
Wednesdays Oct 16, 2002
Arcata's La Trattoria,offers traditional
Italian cuisine in a family environment
Bruce E. Brown
For The Time Standard
ARCATA - Step into La Trattoria in the Sunnybrae Center and you will get a taste of old Italy in more ways than one.
   Proprietor Patricia Cambianica oper­ates her restaurant with a personal touch, accompanied by her husband, Jim Becker. Hung on the walls to satis­fy your artistic taste are large photo­graphs of picturesque Italy and Sicily. Created by Cambianica's grandparents, these photos depict scenes of families and friends. towns and countryside. Diners arriving at La Trattoria are wel­comed like good friends coming over for a family dinner.
   Formerly the Barcelona Cafe, Cambianica and her husband took over the location in November 2001 after looking for a suitable spot for seven years.
  Cambianica says she was raised in the restaurant environment "I've been in the restaurant business since I was 6 years old." she said. "My family has always owned restaurants and as kids we would help out."
 This is Cambianica's first restaurant ownership, however. She left Los Bagels after six years and credits the owners there with being very encouraging in. her endeavor to start her own restau­rant. Cambianica is La Trattoria's chief cook and food preparer with her husband helping as maitre d' and wait staff.
   La Trattoria offers uniquely tradition­al Italian dinners - as well as appetiz­ers -from a set menu and a rotating seasonal menu featuring (as much as possible) organic produce and fresh bread from the Brio bakery in Arcata. Currently, traditional Italian dishes such as handmade potato gnocchi, tomatato and basil sauce on spaghetti, hand- made spinach and cheese ravioli, and rabbit with Sicilian sweet and sour sauce are being offered for dinner.
  Cambianica's grandfather was from Northern Italy and her grandmother from Sicily, so she incorporates recipes from many different regions of Italy. Dinners are served Wednesday through Sunday, A modestly ­priced wine list is available with hand-selected offerings from Italy and California.
  Italian dessert - consisting of a family recipe of tiramisu and Cambianica's mother's recipe of spumoni is also served.
Breakfast with an Italian-accent is available Saturday and Sunday from to I p.m. The breakfast menu includes oatmeal raisin scones,Panettone, french toast, handmade pork or chicken sausage, Caponata Frittata (with eggplant, peppers, capers, toma­toes and onions), Crisped Pancetta
<![if !vml]>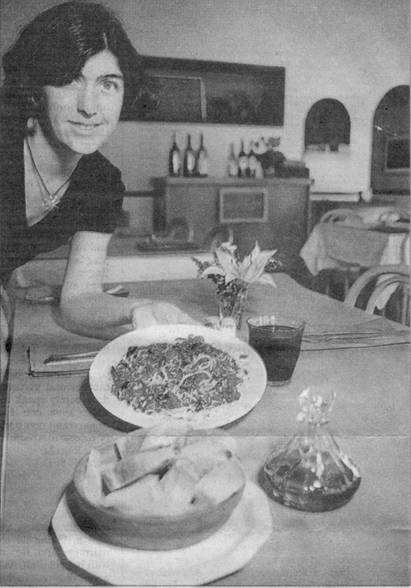 <![endif]> 
Patricia Cambianica, seen heree inside La Trattoria, is the restaurant's owner, chief cook and food preparer.
Wednesdays Oct 16, 2002