Cuisine SCENE
r<![if !vml]>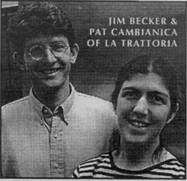 <![endif]>
<![if !vml]>
<![endif]> 
by BOB DoxAN
 HEN PAT CAMBIANICA AND JIM BECKER
were married late last year, they made plans for a honeymoon in Italy. They never went. Instead they bought a restaurant. La Trattoria opened Nov. 1 in the space in the Sunnybrae Center where Dexter Villamore had the Barcelona.
As you might guess from her name, Cambianica is from an Italian family. Her parents run two successful restaurants in Southern California; one of them is called La Trattoria.
The name basically translates as "the restaurant" in Italian but refers to a specific type of eating establishment, a casual place, one that serves simple meals. True to its name, the place offers an unpretentious menu. The idea is to offer just a few dishes and do all of them right.
So far the place is open only for dinner. The menu is divided in two - part one, offered year 'round, includes classics like spinach lasagna, spaghetti carbonara (with pancetta, garlic
and chilies, tossed with egg), spaghetti with tomatoes and basil sauce (meatballs optional) or the simplest capellini with garlic and olive oil.Spaghetti puttanesca is a dish I used to prepare at several restaurants and I still make it at home. The name refers to Italian prostitutes, and legend has it they thought it up. While prostitution has long been legal in Italy, the law is designed to keep them indoors most of the time, so they only have the luxury of strolling in the marketplace on certain days. None of the basic ingredients - capers, olives, anchovies, garlic, red pepper flakes - are things that require daily shopping. Cambianica adds fresh tomatoes in her rendition.
All dinners come with the standard soup or salad option. The salad is an organic spring mix with marinated carrot shreds and diced baked beets. Soup is seasonal. The day we ate there we had the last of the winter soup: chickpeas and tomatoes in chicken broth, kind"of a stripped-down minestrone. Spring comes early at La Trattoria; they were already changing menus only a week into February. By now the soup is a Lombardy-style spit pea.
The seasonal side of the menu includes a handful of appetizers: an asparagus, sweef pepper, spinach tart; bagna caoda, a hot anchovy olive oil dip for crudities; a skewer full of grilled shrimp served with salsa verde, not the Mexican kind but the Italian version with parsley, garlic, olive oil and just a hint of anchovy. One holdover from the Barcelona tapas days is a bowl of Henry Robertson's marinated olives.
Spring menu entrees include vongole, a version of linguini with clam sauce; baked chicken with porcini mushrooms; pork chops stuffed with pancetta and fontina, then grilled and served with linguine in a lemon cream sauce; and rabbit with Henry's green olives and tomatoes served with a creamy polenta.
My choice: gnocchi, the tender potato pasta that's almost like little dumplings. They serve it with a basic tomato basil sauce or with a flavorful Bologna-style meat sauce that somehow made the dish both light and hearty. (I hope I don't have to tell you we're not talking about the bologna your mother used for school lunches; it's a city in Italy.)
For dessert, there's tiramisu or spumoni (her mother's recipe and it's not green) or you can sip some Benjamin port from little glasses they received as a wedding present. Becker, who serves as one of the waiters, mentioned the fact that he had bought a bottle to take along on that postponed honeymoon.
La Trattoria is open from Wednesday through Sunday. Call them at 822-6101 for reservations.
NORTH COAST JOURNAL • THURSDAY, FEB. 14. 2002 1 1-3